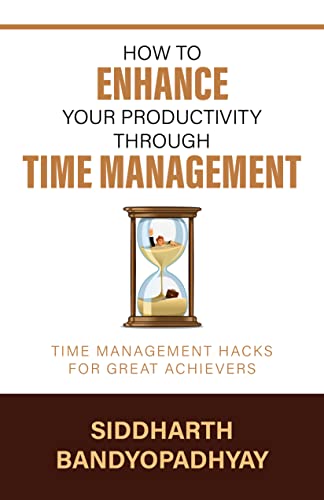 04/13/2023
Do you ever wonder why, even after working hard all day, you are unable to accomplish your goals? Are you struggling to keep up with the endless pressure of workload that stops you from finishing your tasks in time? Do you feel that your work-life balance is completely offset, and you have lost total control of time and your life?

If you answered "yes" to any of these questions, you are not alone... In fact, you're in the same boat as many others in this fast-moving world.

But take heart! It is possible to manage your time more effectively and recapture the joy of living. In this book, you'll discover practical, actionable strategies for taking control of your time. You'll learn how to:

- Develop a time management system that works for you
- Prioritize your time and goals
- Overcome procrastination
- Delegate to free up your time
- Stress-management techniques
- And much more!

Amazon author, Siddharth Bandyopadhyay, helps you take a deep dive into the concepts of time management through his book, How To Enhance Your Productivity Through Time Management, which is a self-help book full of time management hacks for great achievers. It reminds you about the fact that time is a valuable and non-renewable resource you should never waste. It is also full of tips that will help you prevent procrastination, leverage delegation, prevent exhaustion, and much more. This guide is a must-read for people who value self-development and for business executives.

If you're ready to take back control of your time and your life, let's not waste any more time.

Scroll up and click the "BUY NOW" button now!